If you're heading to Las Vegas, chances are you are going to be either visiting or staying in one of its world-famous hotel and casinos. At night, the skyline is full of glorious lights that put on a beautiful show until dawn.
There are so many casinos in Vegas to choose from, each with its own unique appeal so we thought we'd share with you the biggest and best around.
You may have heard of a couple of these but there may be some casinos in Vegas that surprise you.
Here are the 10 biggest Las Vegas Casinos.
The Venetian
The Venetian is the largest casino in Las Vegas and is the second largest casino in the World, falling just behind The Venetian Macao. The resort complex contains 4,049 rooms, 3,068 suites and a 120,000-square-foot (11,000 msq) casino.
In terms of sports betting, The Venetian has a gigantic 10 x 100 feet screen that is able to show 42 independent events simultaneously. There are also 118 personal luxurious betting stations situated throughout the sports book and is open 24 hours a day.
You can also take the experience on the go by using the CG Sports app to make winning sports bets across the state of Nevada.
Wynn Las Vegas
The Wynn Las Vegas may not be on the Strip but it's still certainly one of the biggest casinos in Las Vegas. It stands at 614 feet high (187m) and includes a 189,000 sqft (17,600 msq) casino.
The Wynn's sports book has been through an extensive renovation that now places sports bettors in a sophisticated setting design and restaurant, highlighted by a 1,600 sqft wraparound LED video screen.
With three betting stations and numerous TVs throughout the space, you'll never miss out on the action.
Mandalay Bay
Mandalay Bay is a 43-story luxury resort and casino on the Las Vegas Strip with 3,209 hotel rooms, 24 elevators and a casino of 135,000 square feet (12,500 msq).
There are plenty of amenities available all day so whether you need a night in to relax at the spa or ready to hit the casino and make some money, it's got everything you need.
With 17 large-screen TVs, a countless number of individual sections and monitors and VIP seating available, groups of 1 to 8 can savor the betting experience at this famous Las Vegas residency.
Bellagio
From the fountain show outside to Bobby's Room within its walls, the Bellagio is one of the Las Vegas' all-time favorite hotel and casino. With 3,950 rooms and a total gaming space of 116,000 sqft (10,800 msq) there is certainly a lot you can do.
The sports book itself is 5,600 and was designed to put bettors in the heart of the best sporting events with 6 large state-of-the-art screens for sport, 7 for racing, 38 sports bar flat screens plus other screens in strategic spots throughout the space.
Santa Fe Station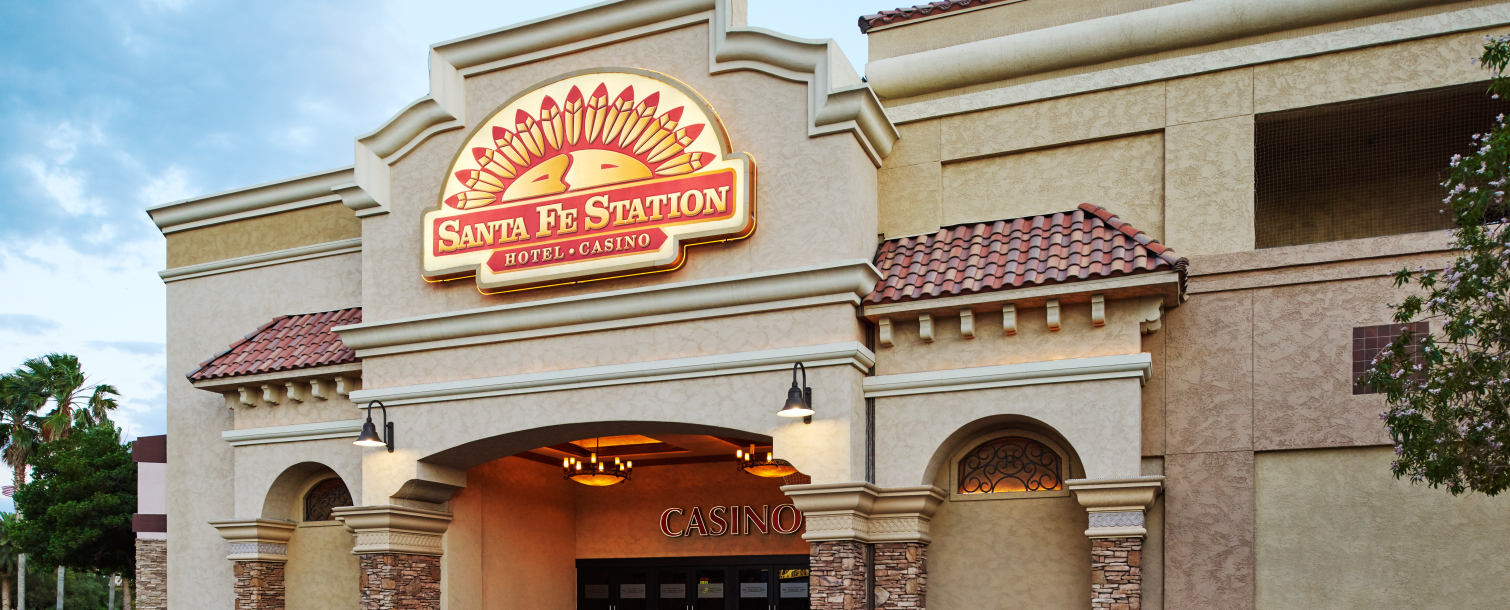 The New Mexico-themed Santa Fe Station is located on North Rancho Drive in Las Vegas and has been through a number of expansions since its opening nearly 30 years go.
It has 200 rooms and a total gaming space of 151,001 sqft (14,028.5 msq). Santa Fe Station. Its sports book is one of the best in Las Vegas. It features unique plasma televisions and a 114-foot video wall to ensure that you don't miss a single second of the day's action.
They cover every major sporting event on in real-time, with some of the best lines, parlay cards and futures in Vegas.
Green Valley Ranch
Green Valley Ranch hotel and casino is one of the biggest in Las Vegas. It's made up of a 143,891 sq ft (13,367.9 msq) casino, The Spa at Green Valley Ranch, 65,000 square feet of convention space and 495 guest rooms and suites, of which 143,891 sq ft (13,367.9 msq) is gaming space.
It's considered a locals casino but the property was designed with an upscale element, making it appealing for many out-of-town visitors.
The Sports Book at Green Valley Ranch features 5 movie screen-sized video walls, 33 50-inch plasma TVs and individual monitors. They have great lines, parlay cards and futures on all major sports, including football, baseball, basketball, hockey, NASCAR, golf, tennis and boxing.
MGM Grand
The MGM Grand resort in Las Vegas is one of the biggest casinos in Vegas and houses some of the biggest sporting events, such as world championship boxing matches to some of the greatest shows around.
It is the third-largest hotel complex in the world by the number of rooms and second-largest hotel resort complex in the United States. MGM Grand has
6,852 rooms and 171,500 sqft (15,930 msq) worth of gaming space.
They have seating for 104 guests and have thirty-six 65-inch LCDs and twenty-four 42-inch plasma televisions, capable of handling more than 53 channels of simultaneous sports action from all major international athletic and race events.
Aria
Aria is one of the newest casino properties in Las Vegas but it what it lacks in age, it makes up in luxury. With 4,000,000 sqft (370,000 msq) of lands and standing at 600ft (180m) in height, it is the largest and tallest structure at CityCenter. The casino space itself is 150,000 sq ft (14,000 msq).
Aria shows marquee events on one of their multiple 220" televisions with over-stuffed armchairs surrounded by televisions that show up to 200 live events at a time.
With a wall of 90 HD screens, you'll be sure to see every pass, catch, basket, goal or home run.
The Orleans
The Orleans is one of Las Vegas biggest casinos that is known for being a locals establishment. Nevertheless, The Orleans still manages to attract a fair number of tourists, particularly during the Mr. Olympia contest.
The hotel itself has 1,885 rooms and 135,000 sq ft (12,500 msq) worth of gaming space. In terms of the sports book space, it seats 125 people and with new generation LED reader boards and high-resolution giant screen televisions, you get all the latest sporting events at an instant.
Celebrate the sporting season in style at The Orleans in a hub of constantly full of activity and fun.
Caesars Palace
Caesar's Palace is one of Las Vegas' best-known landmarks. The hotel has 3,976 rooms and suites in six towers and a convention facility of over 300,000 square feet (28,000 msq).
Caesars is also well-known by sports bettors across the world. It boasts a custom-built 143′ HD LED screen, coupled with state-of-the-art 4-Zone Directional Sound, so you will never miss a minute.
It has also been voted the best Las Vegas sports betting destination for the last four years in a row.
5 Noteable Mentions
While these 5 casinos aren't the biggest in Vegas for space, they are still worth visiting on your trip:
Treasure Island
Every seat in the Treasure Island sports book comes with an individual monitor, allowing you to choose the game you want to watch. There are 11 big screens and 20 small screens that cover all of the day's action.
Golden Nugget
The Golden Nugget sports book has more TVs per square foot than any other casino in Nevada. With a laid-back atmosphere, it's ideal for watching your favorite sports all day and every day.
Rio All-Suites
As the new home of the World Series of Poker, the Rio All-Suites Hotel and Casino's sports book has 6 big screens and 10 70" HD TVs to watch the action virtually all day.
Westgate
With over 350 seats and a massive 220-foot-by-18-foot 4K Video wall, there are not many places in Vegas that offer an experience quite like the Westgate.
Luxor
Luxor is a grand betting arena, full of TVs and individual seats with monitors. Whether you're a rookie bettor or seasoned pro, you'll love it here.
Read Our Story
Our goal is to grow this sport investing community to a point where we make betting companies take note.